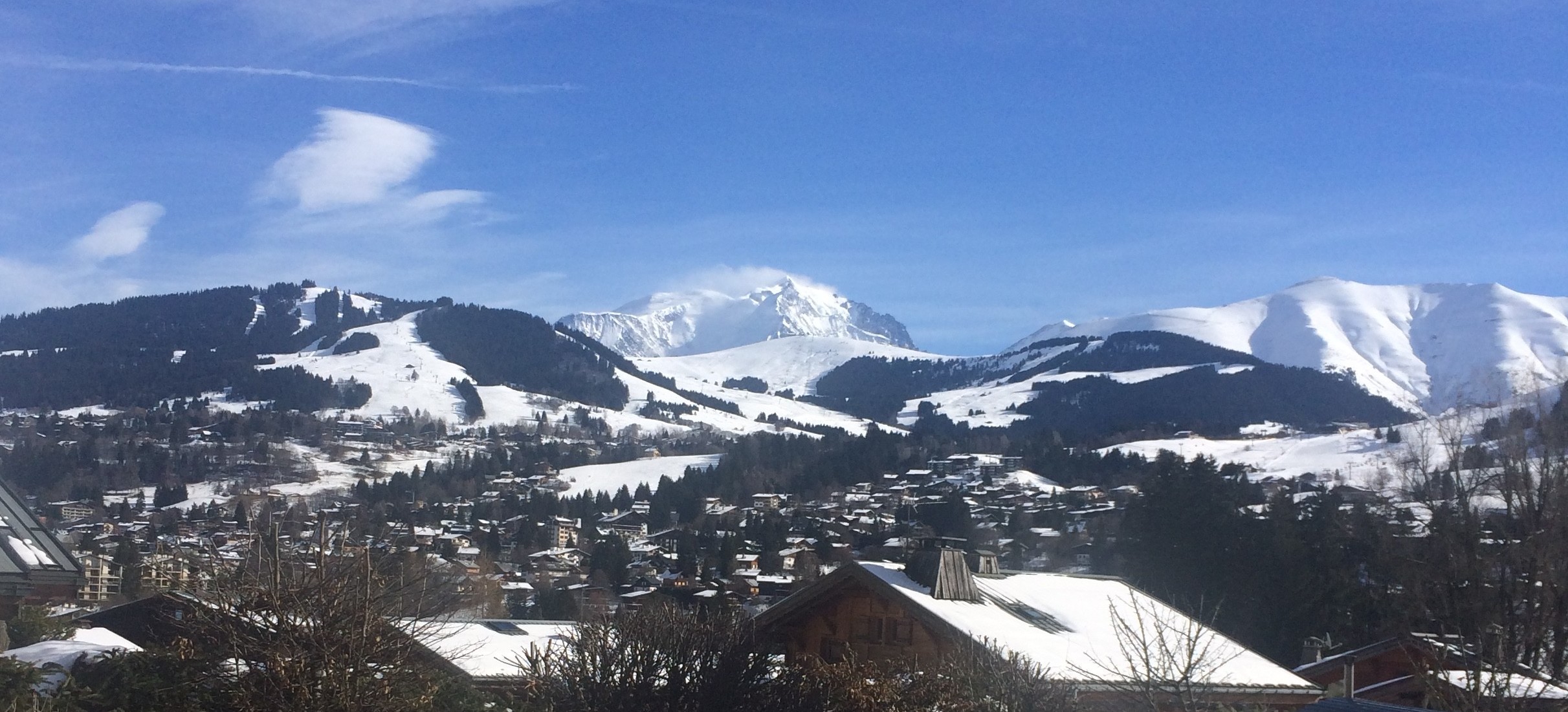 You live in or around NYC and you like to ski.  You have a couple of kids who like to ski even more than you do. You have at least four options to easily satisfy this itch:
Take a day drip to some place like Mohawk or Butternut
Make it a long weekend up in Vermont
Use the February break to head out West for a week
Use the February break to see what the European ski experience is all about
If you like food more than skiing, Option #4 is the only way to go.  There are so many choices.  There's Verbier (Switzerland), Kitzbuhel (Austria), The Dolomites (Italy), Chamonix (France), Val d'Isere (France), and Zermatt (Switzerland), to name a few.  But we chose Megève and I don't think I would need to try anywhere else.
Megève clearly caters to an affluent clientele, but it does so in the most understated of ways.  The Rothschild family felt that St. Moritz was getting to be a little too much, so they moved their focus here.  Today, Conde Nast rates it as the #1 European ski resort for Food and also for Hotels.  The shopping is pretty nice too, and the town is just the perfect place to stroll the streets after a day of awesome skiing.  It also had an atmosphere that was completely family-focused.
The Hotel
We did a ton of research and opted to stay at the relatively new and relatively low-key Hotel Alpaga (www.apalga.com).  It turned out to be a great call.  It was a true luxury hotel but it did not have any pretentiousness.  The facility was immaculate, a combination of rustic and contemporary.  The staff was incredibly friendly.  Our 'apartment' had a kitchen so we could cook on the nights we chose to stay in.  A delicious breakfast was included and the kids indulged on Nutella crepes almost every morning.  The outdoor hot tub and the sauna both had incredible views of Mont Blanc.  The spa, with the indoor hot pool was a delight after skiing.  The restaurants included a 1 Michelin star formal dining room and a casual bistro where we had our first taste of raclette in the Alps.  It was located about a mile from the center of town and they had a van that would take you and pick you up whenever you needed.  With a very large number of ultra high-end luxury properties in or around town, I'd stay at Apalga every single time.  It was simply perfect!
Click here for photos of the hotel
The Skiing and the Town
Mégère is a great place to ski for just about everyone.  In the shadow of Mont Blanc, there are about 90 trams, gondolas, and lifts connecting 183 runs from a base at 3300 feet to the peak at 7700 feet.  The mountain is easy to get around with spectacular views just about everywhere.  We rented skis at the base of the mountain from a place called Twinners.  They had great equipment, excellent service, and we could leave or skis, boots and poles at the shop after each day of skiing.
We'd finish up and take a stroll through the town.  We would often stop for a crepe and the two best spots were Chez Maria and Cafe Nano.  There were a number of cool après-ski spots for a large cold beer, some grog, some hard cider, or hot mulled wine.  And there were a bunch of places to shop, ranging from the ultra high-end to some cool local boutiques.  Since we had a kitchen, we would often pick up supplies at many of the local gourmet shops.  The church is over 1000 years old and definitely worth a quick visit.
Click here for photos of the mountain and the town.
The Food
I'd be hard-pressed to find a ski town in the world with better food.  In the town, just outside the town, or up on the mountain…insane food was everywhere.  I had been looking forward to long lunches on the slopes, but the weather did not permit this too often.  On a sunny, cold day most skiers can be found having 2-3 hour lunches at fantastic mountainside restaurants serving meats, melting cheese, and great wine.  The one we enjoyed was called SuperMegève (see some photos on the link below) at the top of the Caboche lift.
We ate dinner out often and overtime we enjoyed it.  The hotel has two great choices, the more casual L'Onyx (where he had great raclette and a number of other delicious dishes) and La Table de l'Apalga (which has a star).  Our next big meal out was at Le Torrent.  This underground truffle kingdom was a cozy as you could imagine with hearty rustic fare (most dishes with truffles) and a dash of gastronomic ingenuity.  The most celebrated restaurant is the three-star Flocon se Sel, but we opted for it's casual variation called Flocon Villages.  If you ever make it, pray for the roblechon spring rolls.  And lastly, the best meal we had was at La Ferme de Mon Pere, part of a beautiful resort on the other side of town.  The octopus a la plancha with kale and cabbage was one of the best dishes I've had.
If you have access to a kitchen, you need to stop at L'Epicurie for just about anything to bring home with you.  But don't leave without the mashed potatoes with duck confit and truffles. The finest charcuterie (who's name I don't remember) is right next to the Hotel M (which also looked like an amazing place).  And the best boulangerie is another place whose name I cannot remember.  I will add it as soon as a do.
Click here for photos of the food.