This page will serve as a tribute to a good friend and neighbor Jonathan Blum.  Blum is a man of many passions: from golf to big game hunting to his job to, of course, hosting the most amazing dinner parties on this planet (with the help of his wonderful wife)!  When you get word that there will be some sort of event involving food at the House of Blum, the mental countdown begins.
Whether it is pizza night, beef on a weck (he grew up in Buffalo), Carolina style pulled pork, or a five-star affair, Blum and his wife deliver every time!
Fourth of July 2010 was no exception.  The theme was Hot Dogs of America.  Not just different styles of preparation, but regional dogs as well.  JB's mail order bill must have been steep this month.
It was hard not to fill up on the amazing Clam Dip with potato chips, as well as the Southern Pimento Cheese Spread with Ritz Crackers.
But then the real show began.  After the kids were fed, the adults engaged in a blind tasting.  One version of each of the following hot dog brands were grilled up.  We were each given a small bite on a toothpick and the voting commenced.  The brands under consideration:
| | |
| --- | --- |
| | Nathan's (NY) |
| | Usinger's (Milwaukee) |
| | Let's Be Frank (San Francisco) |
| | Vienna Beef (Chicago) |
| | Sahlen's (Buffalo) |
| | Koegel's (Detroit) |
First a word about the judges:  not all were hard core dog lovers.  But that was OK.  We may have not picked the purist's favorite dog (Usinger's), but there was a clear winner and it was Nathan's.  There is a reason they sell 360 million of these per year.  There was also a clear loser: Let's Be Frank.  San Francisco is just not ready for hot dog production.
Anyway, here's the photo of my blind ballot (with the names listed, as well as the consensus ranking in the small circle in the Comments section):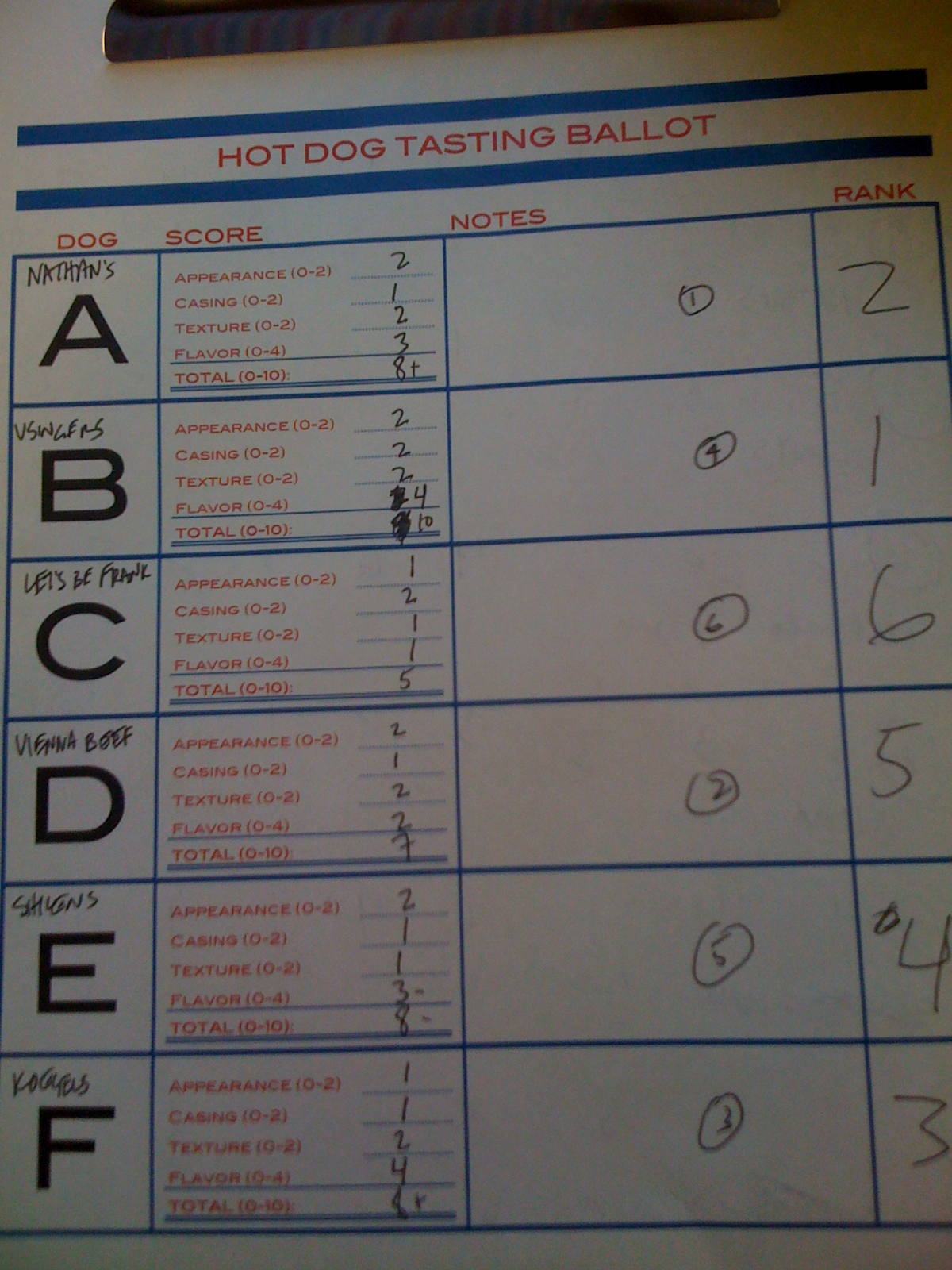 After the blind tasting, JB threw them all on the grill and enjoyed them with all the proper regional fixins.  The Detroit dog had a choice of wet or dry Detroit chili with mustard and onions.  The Vienna beef was put on a poppy seed bun with pickles, two types of relish, peppers, celery salt, etc.  We had regional mustards for each dog.  We had cheese, bacon, different relishes, hot peppers, hot sauces, etc!  Here are the photos: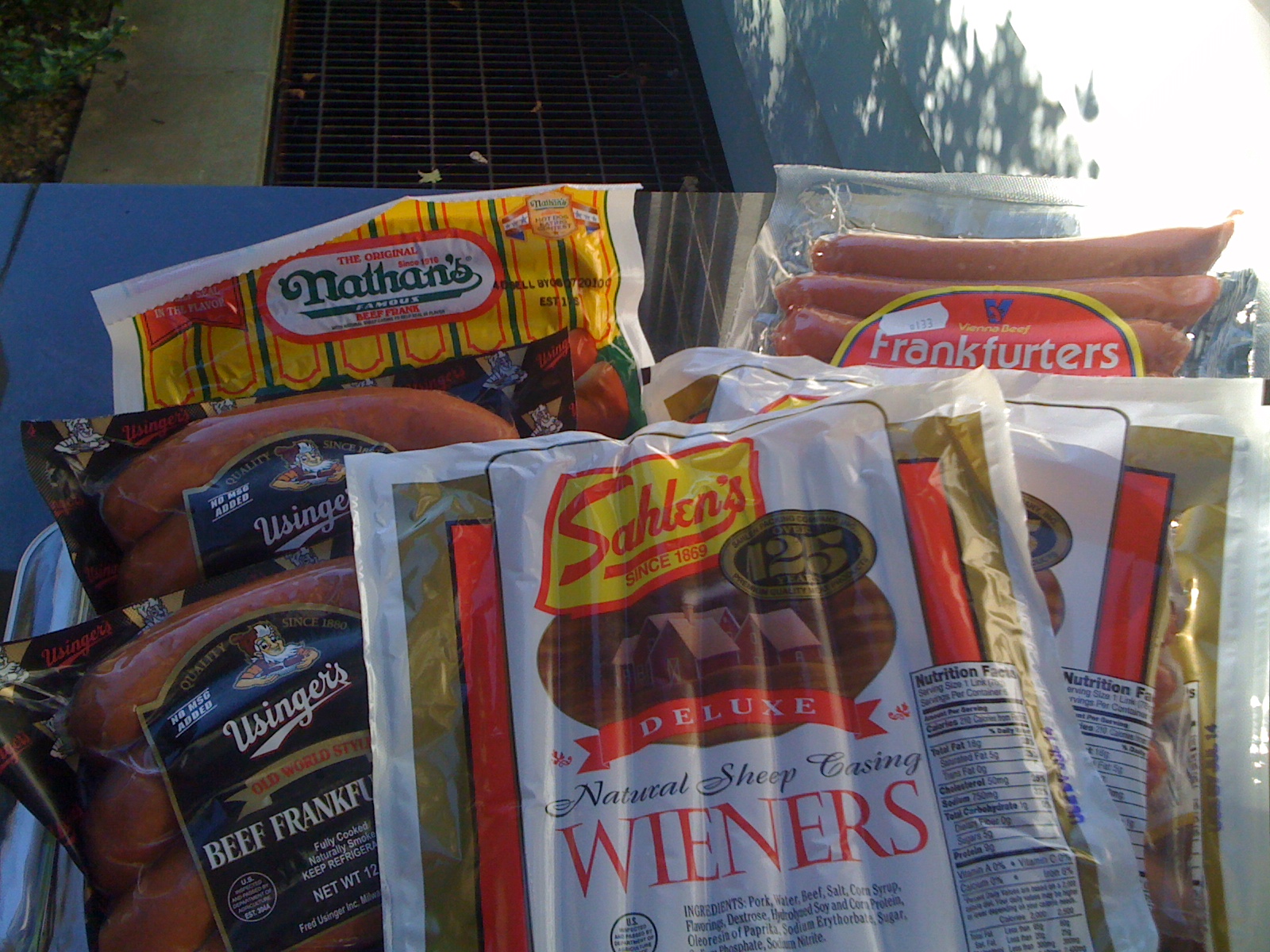 Some of the brands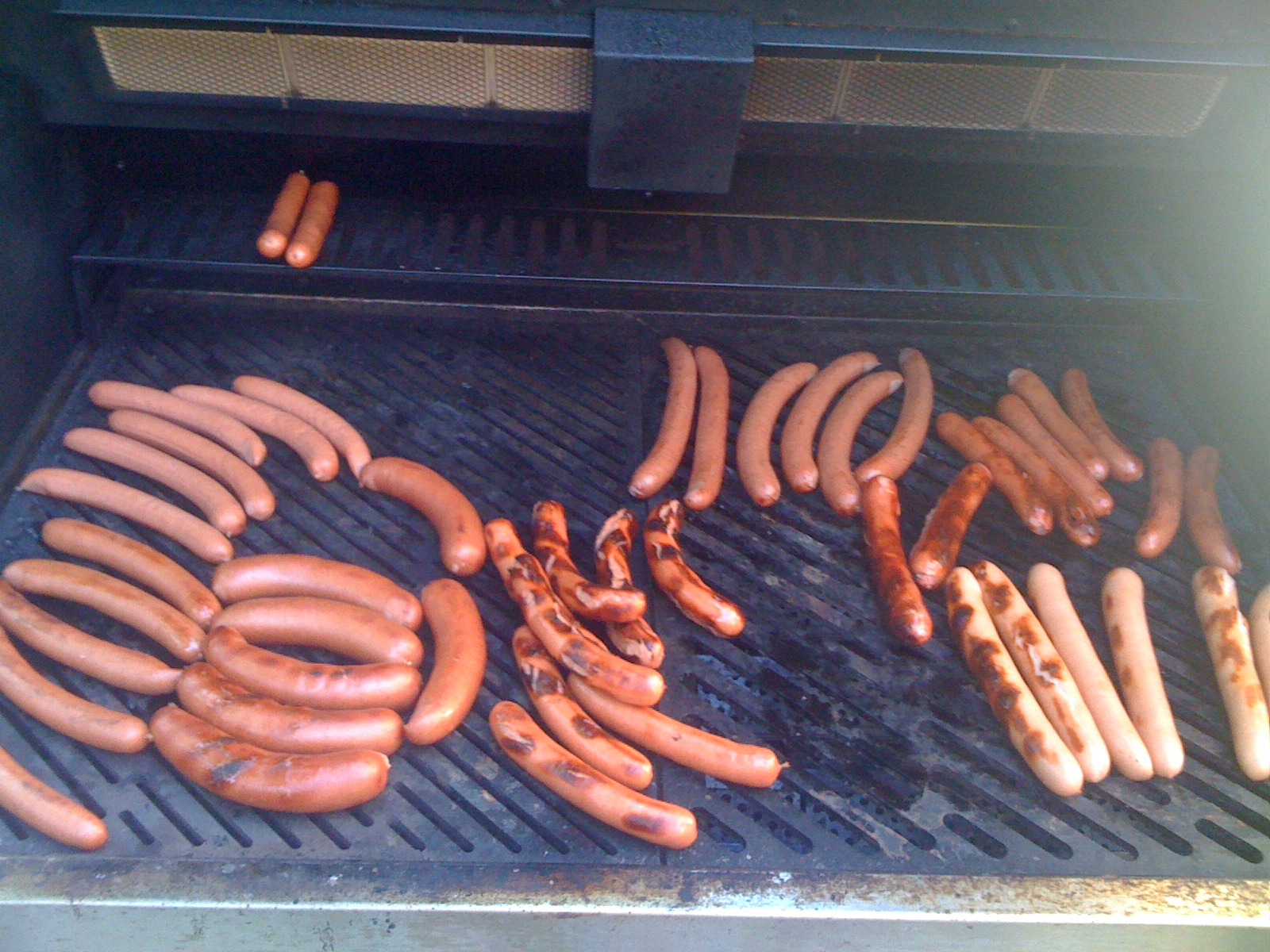 Perfectly grilled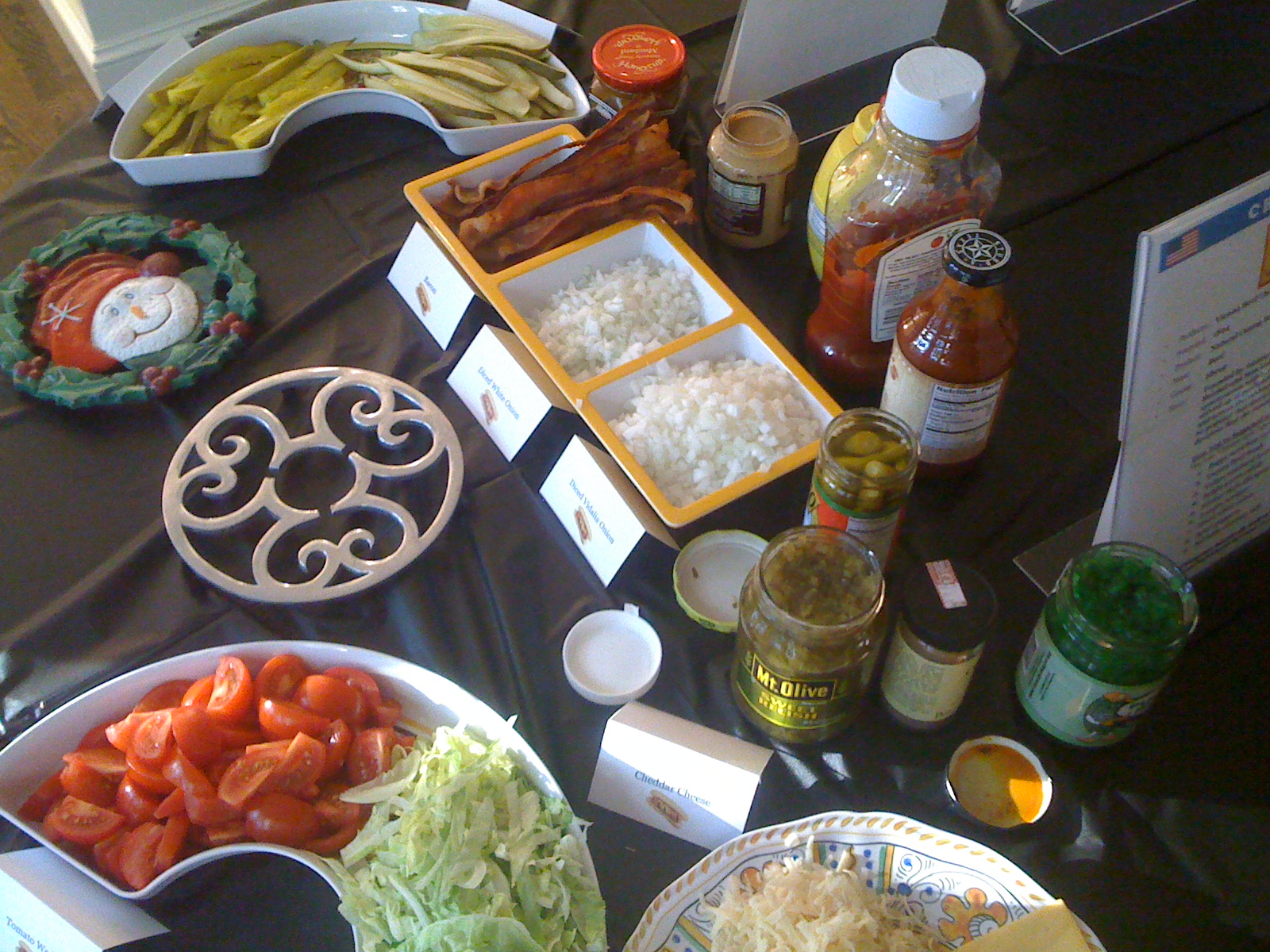 The condiments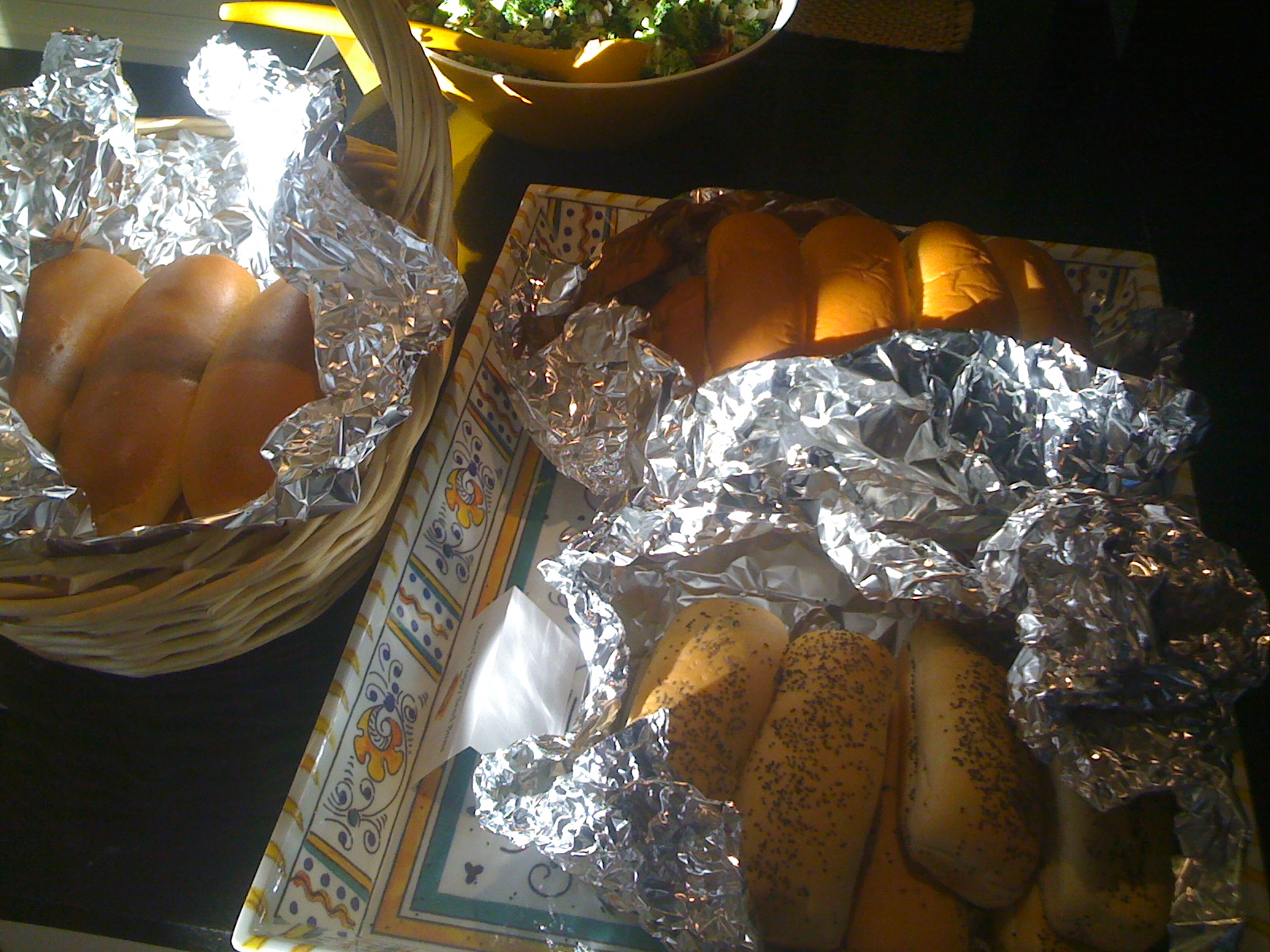 The bun choices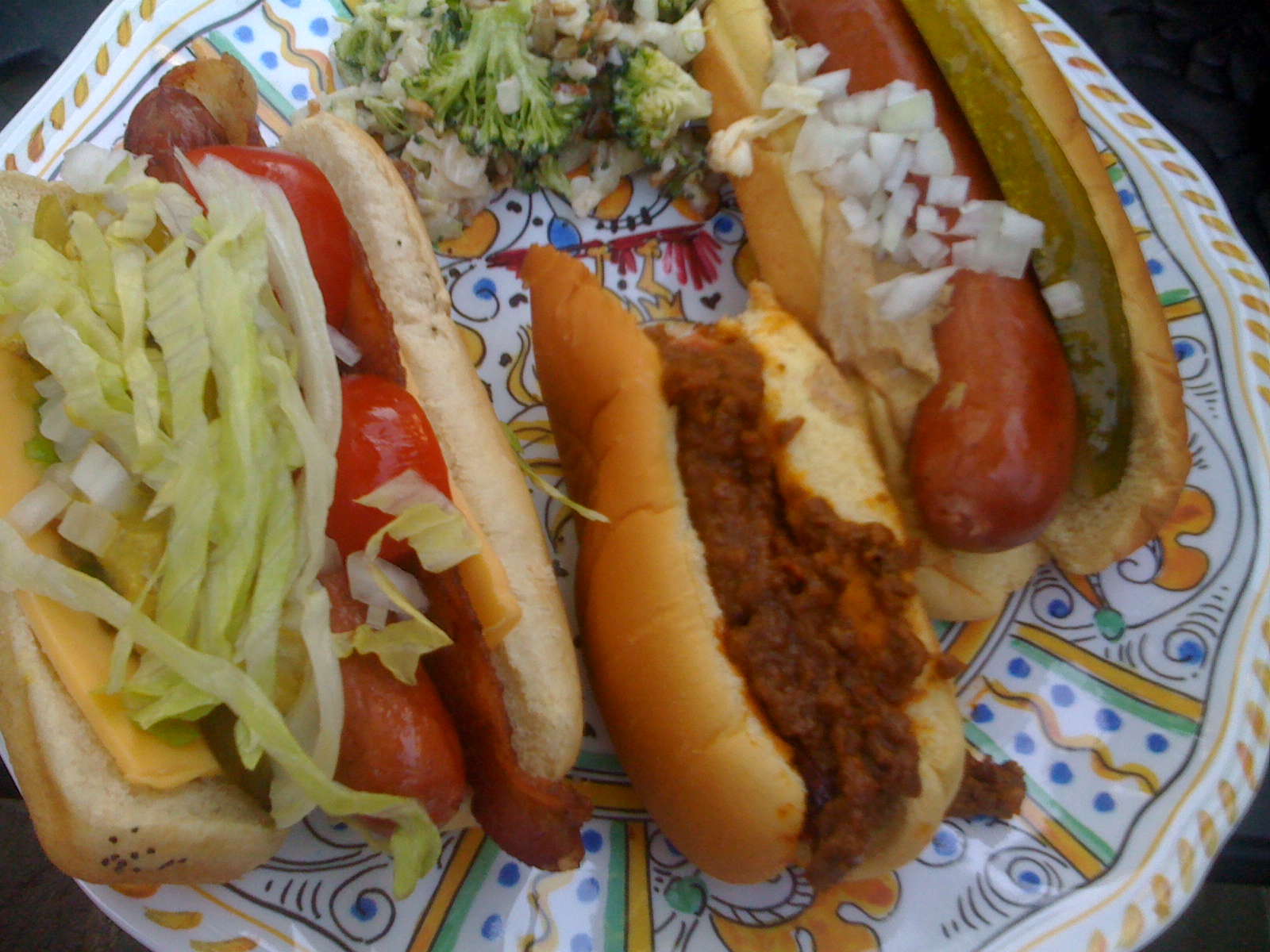 The Finished Product!
AWESOME!!!!