Let me start by saying The Breslin should be renamed The Schrohe.
And I haven't even seen the menu.  Oh, I've read about it.  A lot. And at 9:00 after I'd been at the bar for a while, I didn't ask for a menu.  I didn't want to be distracted.  I told the barman I needed:
A Scotch Egg
The Stufffed Pig's Foot
That's it.  Meal of my life.
The Scotch Egg was the best I've had.  (Note:  I've only had two, but when I get to a dozen it will still be the best).  Sort of soft-boiled.  The egg white was firm.  The yolk slightly runny.  And it was encased in sausage, breaded and deep-fried.  Full stop.
The Scotch Egg: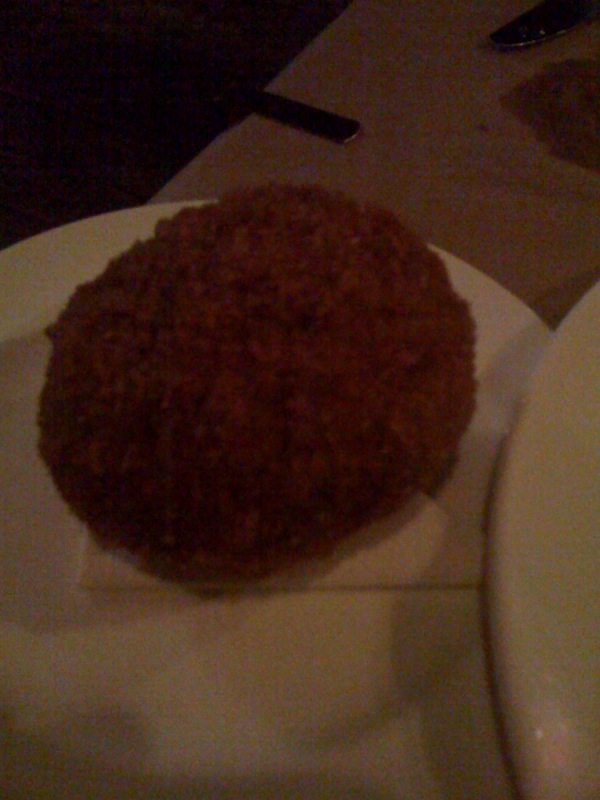 The NY Times said the pig's foot was "a non-negotiable one-time order".  Once a month?
They described it as more like a "Toddler's Leg".  That is sick.  I thought it was more like the Situation's forearm.  Without the tatoos.
In my mind this might be the most significant dish being served in America today.  I don't know how they make it.  But, I would guess the following:  they take the shin and foot of a pig's leg.  About five inches up from the foot, they carefully slice it open and remove everything but the skin and a layer of fat.  Then they stuff it with sausage.  Then they sew it back up.  Then they cook it for hours.  Then they deep fry it.  It was the Southern version of Beef Wellington, but much, much better.  The tenderloin is the sausage.  The foie gras is a layer of gooey rich pork fat.  The the puff pastry is a crunchewy pork rind.  Cut into hockey puck-sized disks and make sure you get a little bit of everything in each bite.
Then take the single greatest veggie to pair with pork: the Brussell Sprout.  Break them apart, throw in some shallots and garlic.  Astounding perfection.
Here's a photo that does not do it justice: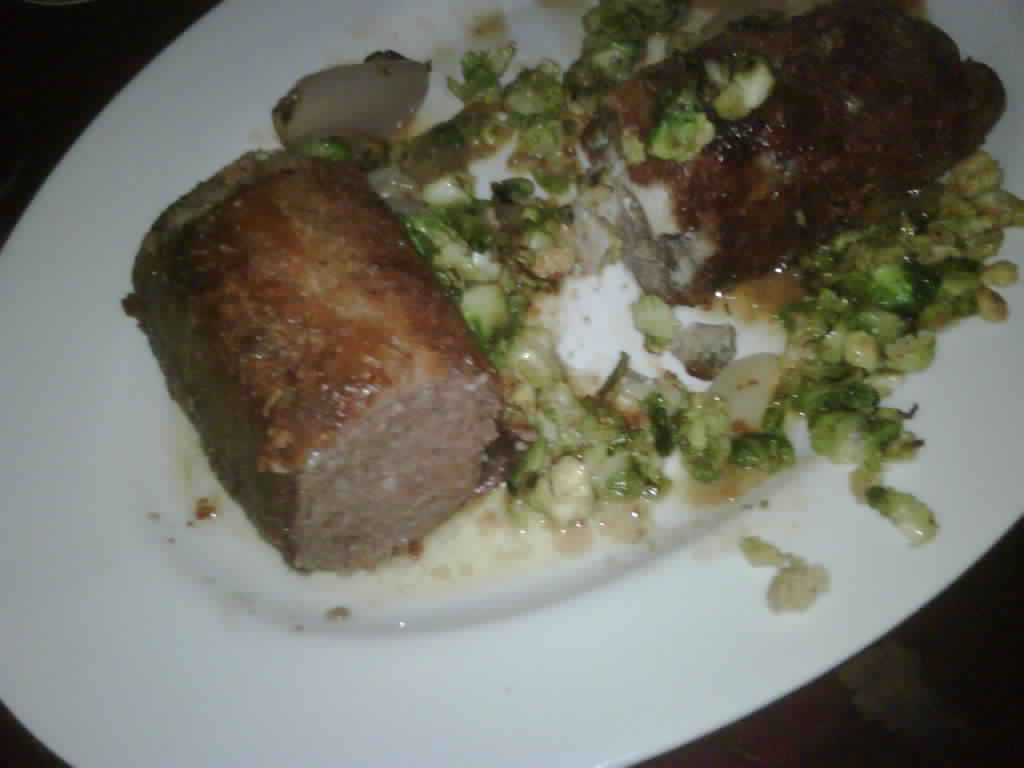 Of course its on my Ultimate List.
And a word about the bar at the Breslin:  they have just the right balance between fun and serious mixology.  The drink menu complements the style of the food and the restaurant.  If you are lucky enough to be there on a night when Lydia is behind the bar, watch her and you will see how much she enjoys her work.  Each drink is a special project, and she displays a hint of pride during that instant the drink is completed, just before it is served the the customer.
Try a Manhattan.  Awesome.  But something tastes different.  Little details (like the killer sweet vermouth pictured below) make the difference.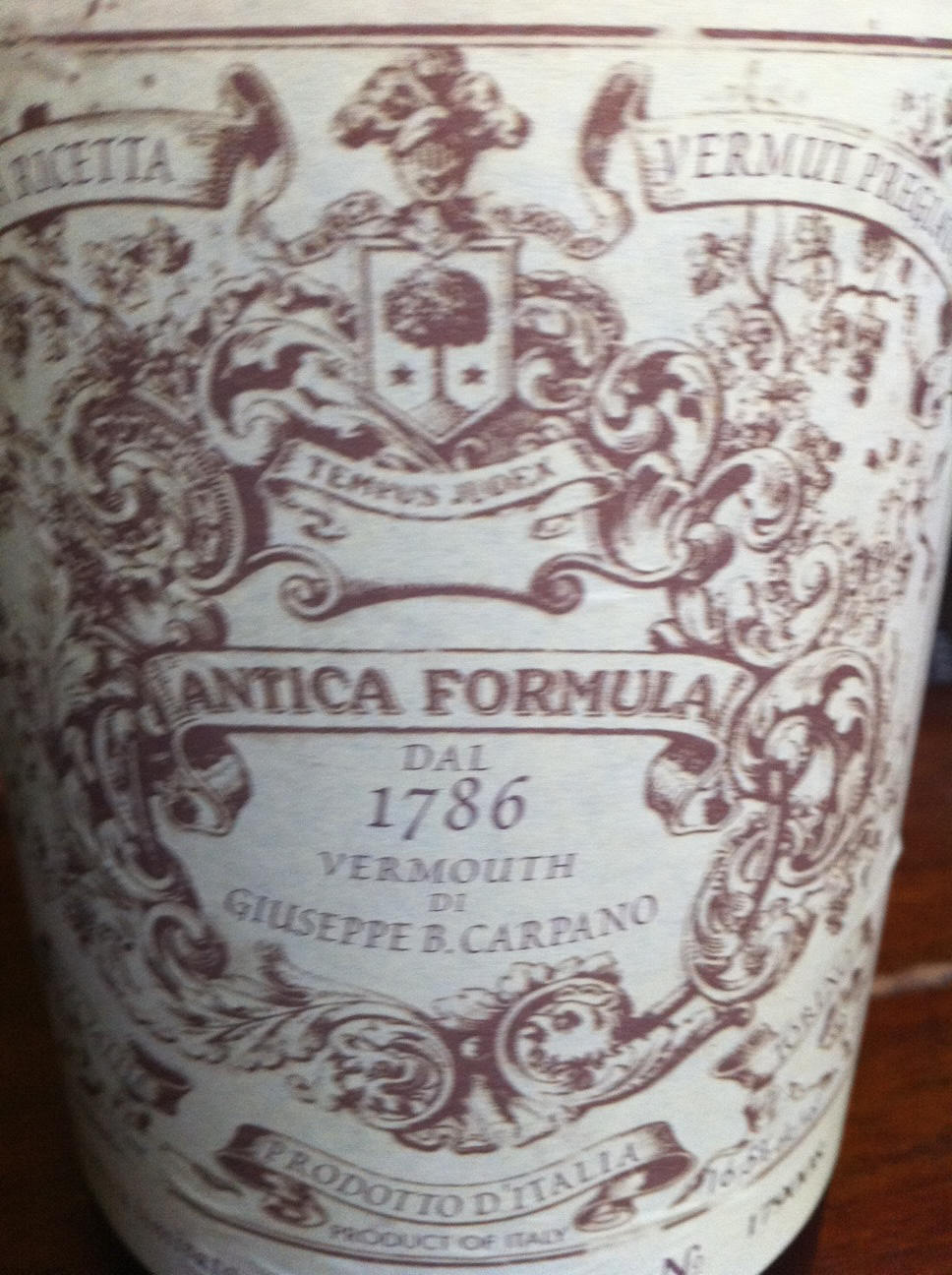 And you've got to love a place with a red-eyed bull looking over you whilst drinking!