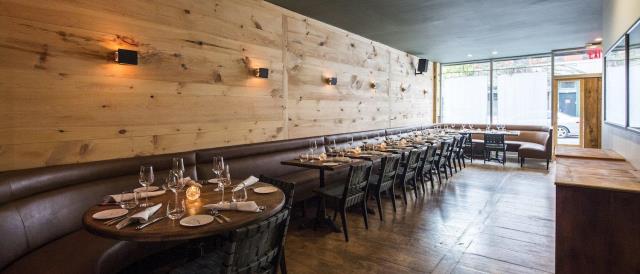 I typically prefer a broad menu selection, so as I was gearing up for my visit to Lowlife, I was preparing myself for possible disappointment.  Keeping expectations low.  Despite what I heard from a trusted source, I figured I'd come away from this dinner hungry and confused.  WRONG.
When you have a Delaney Fried Chicken Sandwich for lunch, it's about 100% certain you're not going to have any better poultry that day,  And, in no way could you have two better poultry dishes after a Delaney lunch.  WRONG.
And, most likely, when a well-known chef (that I'd never heard of) and a well-known restaurateur (from a restaurant I'd never been to) opens a trendy spot on the lower east side, you know the staff will be pretentious and the chef unfriendly.  WRONG.  WRONG AGAIN!
Nothing can be WRONG when everything is RIGHT.  And, at Lowlife, EVERYTHING is RIGHT.  The space is beautiful.  The hostess, the bartenders, and the servers are all super cool, super friendly, and super knowledgeable.  The sommelier kicks ass and his wine collection is insane.  And the chef, Alex Leonard could not be a humbler, nicer guy.  And his culinary genius, combined with the kitchen team's flawless execution, creates a small menu where EVERYTHING is good.  How do I know?  Well, I tried everything.  And I loved everything.
The stuff I would have never ordered (like the Hokkaido Pumpkin) turned out to be my favorite.  The portions are small, and that includes the wine pours.  But, if you are willing to invest a few bucks to experience a Best Meal Ever, this allows you to try so much more.
Here's the line-up (which included a wine pairing which I will try to get right):
Warm homemade sourdough bread with the best butter I've ever hade
Wine: 2013 Enderie & Moll, Burgunder Weiss & Grau, Baden
Borscht, Trout Roe, Raw Cream (this came as three perfectly balanced dollops…really tiny…almost like an amuse…everyone should order their own)
Hokkaido Pumpkin "salad" with maitake mushrooms and house-made cheese
Wine: 1999 Domaine LaRoche, Roche Aux Moines, Savennieres
Raw fluke, Hackleback Caviar, and corriander in a smoky sauce
Lamb tartare, with shrimp salt (made from crushed dried shrimp), and paper-thin toast points
Wine: 2013 Francois Mikukski, Chardonnay, Bourgogne
Guinea Hen (transformed into a sausage with crispy skin as the casing) in a sourdough bread sauce with roasted carrots and mustard greens
Herring & Sardine, with pine nuts and a chimichurri sauce
Wine: 2014 Clos Roche Blanche, PIF, Cabernet Franc, Touraine
Dayboat Scallops in some amazing sauce with lemon grass
Wine: NV Belluard, Les Perles du mont Blanc, Gringet, Savoie
Poached lobster with salsify and tarragon
Fresh tilefish with mussels and Matsutake mushrooms
Wine: 2013 Matassa, El Sarrat, Mourvedre, Languedoc-Roussillon
Sasso Chicken Yakitori with grilled scallions and smoked cabbage
No room for dessert
So that's all folks.  Remember, EVERYTHING is AMAZING.  The stuff I bolded, I just liked a little better.  Great place and a great team of people who really care!